Say "I Love You" with a Singing Valentine and Leave your Sweetheart Speechless
Visit our Singing Valentine page
For hundreds of other cities in North America:
---
The Singing Plainsmen...People, Current Discussion Topics and Links
---
Robert Shaw, the most influential choral director of the twentieth century died on Monday, January 25.
---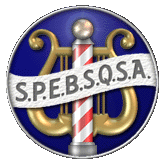 THE
SINGING
PLAINSMEN
CHORUS

The Singing Plainsmen Chorus is a member of SPEBSQSA Inc., and was founded in 1945 in Lubbock as the first chapter in Texas. Meeting time is 7:30 PM on Thursdays at Lubbockview Christian Church at 34th Street and Hartford Avenue. We invite any men who can sing to just drop in and try us out, or call or e-mail the sources on this page for more information. We are an A Cappella singing group, and love to sing close harmony. The Singing Plainsmen have recently joined the Contemporary A Cappella Society.

Southwestern District Spring Convention, International Prelim's Contest and Small Chorus Contest will be March 26 - 28 in Oklahoma City. The Singing Plainsmen will likely participate.
More details here