The Lubbock Prairie Winds Chorus of Sweet Adelines International meets on Mondays from 7:00 p.m. to 10:00 p.m. at Calvary Baptist Church located at 82nd Street and Aberdeen Avenue in Lubbock, Texas. Local contact telephone numbers are (806) 799-SING (7464) and (806) 792-5886.
Sweet Adelines International is a world-wide women's organization devoted to developing the musical art-form of barbershop through education and performance. The organization had its 50-year celebration in 1995.
---
Be Sure To Make Plans to Attend our Christmas Show On December 4th
---
Director Marilyn Dickey is the Regional Directors' Liason - a position similar in stature to Marva Hughes' Membership Development Representative position. Both are members of the regional team that is similar to a board of directors.
---
Best Lessons Of Barbershop
THE BARBERSHOP BUG
Visit Our New Links Page
Calendar of Events
Prairie Winds Officers
Our Director, Marilyn Dickey
Crystal Collection
Sweet Adelines History and Purpose
Sweet Adelines International
---
PRAIRIE WINDS CHORUS

Click here for a larger picture.
---


Visit the new Crystal Collection web address at: http://www.harmonize.com/crystalcollection/ Crystal Collection quartet is always a top contender in regional Sweet Adelines competition...The quartet brought home second place honors in the Women's Overall catagory with their debut in the Buckeye Invitational Contest in Columbus, Ohio on August 19th - 22nd. This prestigious and unique contest featured top barbershop groups from all three barbershop organizations from all over North America and beyond. Experience some of the flavor of the event by reading this account by Becky and a review by Jade Walker.

---


Expect the unexpected when this fun-loving foursome entertains at your function.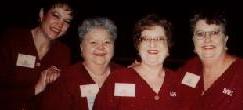 ---

Rendition performed on the 1900-1930's Eclectic Stage for Lubbock's 4th On Broadway celebration on Saturday, July 3rd. They put on a fine performance and represented Prairie Winds very well.
---

Astound Sound is the newest Prairie Winds quartet. Check this site in the future for more information.
---
---
THE BARBERSHOP WEBRING



| Previous Site | Random Site | Next 5 Sites | Next Site |
A full site list is available here.
---